EvaQ Enterprise series


The EvaQ Enterprise series was introduced specifically to manage complicated queues in organisations with multiple service centres. Our Enterprise queue server software manages all of the queues in a single server, making queue management centralized and hassle-free. This complex yet intricate solution is able to handle hundreds of counters on different floors, different locations and for different customer groups, creating limitless possibilities for variations with custom made solutions for different types of customer flows.


SMS Queue
With the EvaQ Enterprise Series, you have the possibility of connecting text messaging services. This means additional functions that allow your customers to make use of their waiting time in locations other than your office. EvaQ Enterprise provides you with the capabilities to allow your clients to join the queue with a simple text message without having to interact with a kiosk or ticket dispenser. Customers can then receive information about waiting times and the number of people already waiting via text messages. The system is also able to send a reminder before the customer's number is called, based on the current queuing situation in the system.
Cloud-Based Option
The EvaQ (Enterprise) Series also offers the option to move your queue system onto the cloud, essentially removing the need for a physical Q server in each branch of your enterprise. This cloud-based system brings our minimalistic design to the next step, eliminating server costs and getting rid of messy cables altogether.
Running on Evantek's proprietary Enterprise software
3 departments spread over 5 levels
13 units of self help/registration kiosk
200 queue calling counters
55 units of queue display
200 units counter display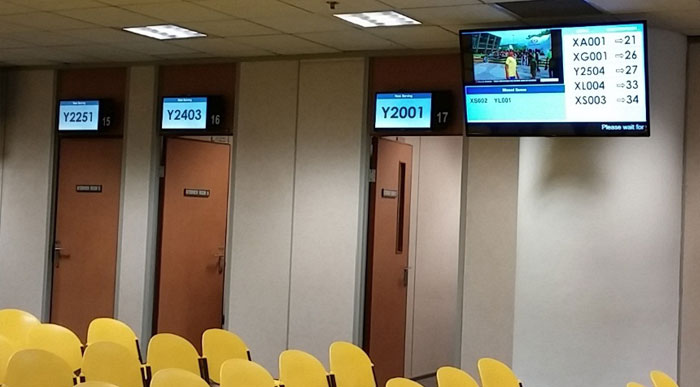 Running on Evantek's proprietary Enterprise software
10 departments spread over 3 buildings
12 self help/registration kiosk
3 interactive PathFinder navigation kiosks
200 counter displays
22 main display
Queue video wall
Running on Evantek's proprietary Enterprise software
SMS Queue Issue
SMS Queue Reminder
Multiple main displays per branch
90+ branches island wide